I was lucky enough to get my hands on the new Aqua collection from Sleek MakeUp and today I have the palette, Lago

on

, to show you.
I adore the boxes that this collection has come in, they're beautiful! The palette is the usual black and I believe it's going to be £7.99. I do quite like the black cases

. They're, well, "sleek".

Lagoon has a rather nice mix of colours. They're all fresh and springy. I think all the palettes now have the flat finish, which is a bit of a shame I think! The pattern was unique to Sleek! In this palette there are 9 shimmers and 3 mattes. The shimmers, as usual, were better performers

than the mattes. I find Sleek's mattes to be a bit hit and miss for me. The blacks tend to be awesome some some other shades can apply a little patchy.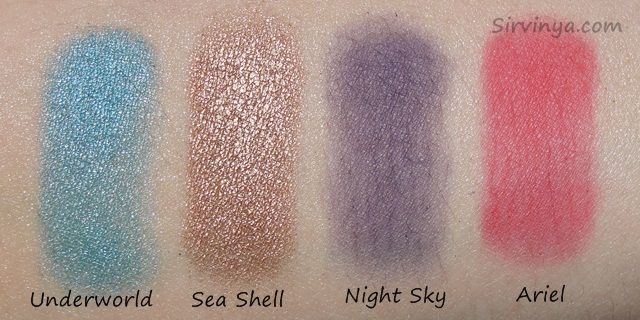 Black Pearl is easily the best performing shade in the palette! It's rich, has a slight shimmer and applies so easily! I really liked all the blue and green shades, but I think Reflection was my favourite. It's a slightly silvery lilac and looks amazing as a lid shade with one of the deeper greens blended into the crease. Pink Jewel is also pretty gorgeous, a pink with a golden shimmer. It pairs rather nicely with the blush from the collection! The shade that gave me the most issues was Night Sky, a deep matte purple. It applied very sheerly and we

nt rather patchy as I tried to build up the intensity.
As with all my Sleek palettes, I got good wear out of these shades. There's enough of a range of colours in here to complete several looks. Oyster is a rather

shimmery

pearl but applied and blended carefully, it can make a really good brow highlight. I applied these over primer when I wore them and got a good 8-10 hours out of them. I did find Underwo

rld

to stain very slightly when no primer was used though.
This palette was provided free for review, this has no effect on the review given.