And for my blogging date with Liloo, I'm posting another haul! I spent the day in Lincoln with Cosmetichamelon yesterday, that's always hazardous for my bank account! I didn't buy *too* much though, I am trying to save for my Atlanta trip afterall

!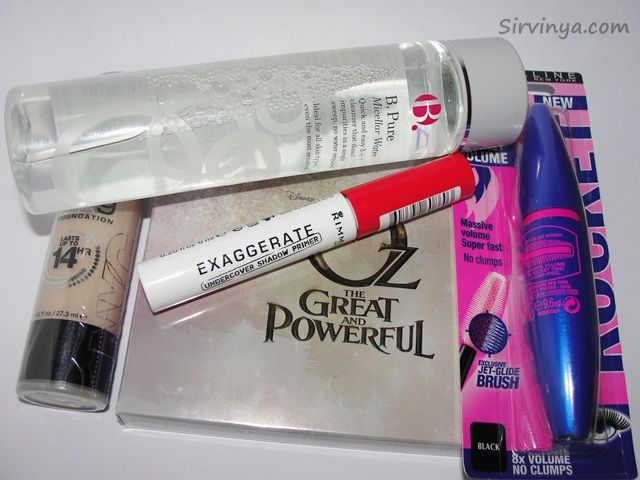 I got distracted by all the

new releases this time, I think everything I bought was new.
-Rimmel Exaggerate Undercover Shadow Primer

- £4.99

- I saw this on The Sunday Girl's blog recently and I'm always intrigued by new eye shadow primers, even though I usually go back to my Urban Decay

!
-NYC All Day Long Smooth Skin Foundation - £3.99 - This was a complete impulse purchase. It looked pale enough and it was only £3.99! It pr

omises a smooth, matte finish all day for up to 14 hours. I'm not holding out high hopes, but I'm still looking forward to trying it.
-Maybelline Vo

lum' Express Rocket Mascara - £5.99

- This was on offer, I think the usual price will be £7.99. I am always attracted by new mascaras! Maybelline mascaras are usually hit and miss for me, so I'm hoping this is

a hit!
-B Pure Micellar Water - £3.99 - I love my Bioderma and will probably buy it regularly once it appears in Boots, doesn't stop me trying any new ones though! This is a Superdrug house brand. It has similar ingredients to the Bioderma, but a few extra preservatives

sprinkled in the list.
-Urban Decay Glinda Palette - £35 - I had no idea these were out in the UK yet, I'd seen a lot of hype from the US bloggers but not so much from the UK. From the pictures I'd seen I thought I'd be all over the Theadora palette but once I saw the Glinda, I just had to have that one instead! I practically had to stop Cosmetichameleon stealing the purple

while I was distracted by cake!