Last year, Sparklecrack Central came up with the idea of a Beauty Blog Advent Calendar where we featured little bits of beauty blogging things we love. This year, she gave us a bit more notice and we are joined by The Unknown Beauty Blog!
Beau

ty Blogger Advent Calendar - Day 21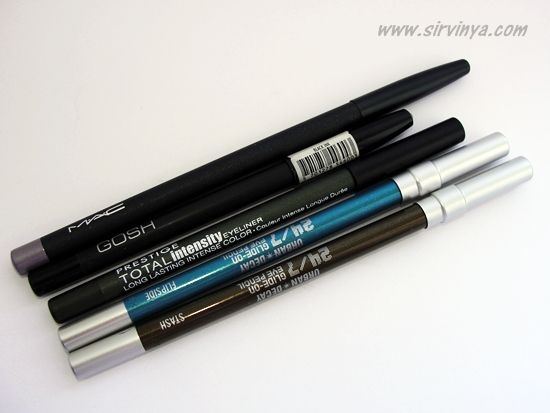 Since I've been showing you some of my favourite things, I thought I'd continue that with eye liner! You'll notice that 4 of the 5 have a similar texture, they're the almost gel liner in a pencil type. If you've tried Urban Decay 24/7 liners then you'll know what I mean! I much prefer them to the more "traditional" kohl pencils like the MAC one

I picked.
-MAC Eye Kohl "Heirloom" - quite an unusual and pretty colour. This is a silvery lilac that really only works to line the lower lash line. I pair this quite often with silvers, pinks and purples on m

y lid.
-Gosh Velvet Touch Liner "Black Ink" - somehow this has

ended up being my favourite black liner, even above Urban Decay! It's a creamy, matte black that lasts nicely all day once it has set.
-Prestige Total Intensity Liner "Daring Green" - I think Prestige has left the UK now, shame really as they had some really good products. These liners are a touch smeary if you apply too much but the colours are vivid. This deep, shimmering green is a favourite

when I've got a good dramatic green look on my lids.
-Urban Decay 24/7 Liners "Flipside" & "Stash" - my favourite liners, I think! They're rich and creamy, easy to apply but set solid and last all day. Flipside is a bright turquoise blue, which really brightens up my area and Stash is a gorgeous

deep olive.
What are your favo

urite liners?