Last year, Sparklecrack Central came up with the idea of a Beauty Blog Advent Calendar where we featured little bits of beauty blogging things we love. This year, she gave us a bit more notice and we are joined by The Unknown Beauty Blog!
Beauty Blog Advent Calendar - Day 14
I found a picture on my computer that I've been meaning to post for absolutely ages!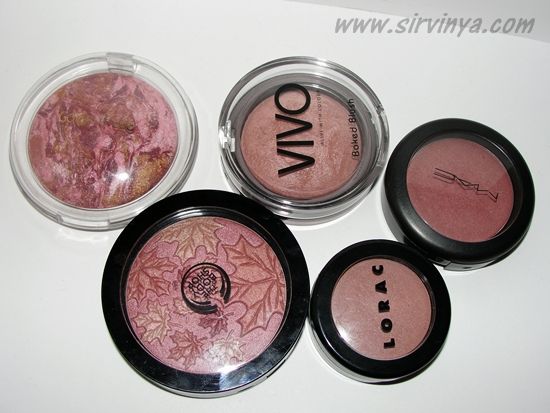 Here are my 5 favourite blushers

!
I've got quite a good stash of blush, but these are definitely my favourites. It's actually a pretty well traveled selection of blush, two were bought in

countries

that were not the UK! I've just noticed these are all plummy and mauve shades. I do have plenty of peachy blushers, but these are just

the ones I love.
-Golden Rose Terracotta Stardust "102" - a very pretty mix of pink, plum and gold. I bought this in Turkey and it was one of my best make

up buys! It's very nicely pigmented and looks amazing on.
-The Body Shop Leaves

"Berry"

- quite possibly the prettiest make up item in my stash! This came out a couple of years ago and was far more expensive than I expect Body Shop make up to be, but worth ever

y penny.
-Vivo Cosmetics Baked Blush "

Cinnamon Glow"

- the cheapest of the blushers here! I ignored this shade for a while in favour of the pinks and peach but it turns out this has been my favourite. It's a shimmering dusty mauve that gives me a

lovely looking glow.
-Lorac Blush "Soul" - possibly my favourite blush of all time! Purchased in Atlanta, I'm planning on exploring Lorac further during my next trip. Another dusty mauve, this one only has a slight shimmer and I

adore this!
-MAC Sheertone Shimmer "Plu

m Foolery"

- I do think MAC's blushes do get overlooked for the more exciting products, but their Sheertone Shimmers are one of my favourite t

ypes of blush. They're pigmented and glowy, just wonderful!
I'd love to know what

your favourite blush is!