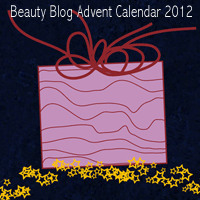 Last year, Sparklecrack Central came up with the idea of a Beauty Blog Advent Calendar where we featured little bits of beauty blogging things we love. This year, she gave us a bit more notice and we are joined by The Unknown Beauty Blog!
Beauty Blog Advent Calendar - Day 2
It's the time of year when wearing sparkle all over yourself is completely acceptable! My Twitter feed ends up being full of party

dresses and glitter at this time of year and I love it!
If you've got a party coming up soon then you might like this little thing from The Body Shop.
The Sparkler - Enchanting Gold is available for £14 (also available in

Copper)

. For this you get a frosted glass bottle

packed full of golden sparkle, dispensed with a little puff. It's rather an elegant method of delivery! It actually works pretty well to ensure an even coating of sparkle.
Just one thing though, it doesn't stick to well on its own so you might want to apply some body

lotion first.
I utterly failed to take some pictures of it applied, my Mum stole it from me. But it's a definite sparkle to the skin, noth

ing subtle here.