Took advantage of the lovely weather yesterday and drove through to Boston for a little bit of shopping (and to scoff a KFC!). The Boots there isn't the biggest or best stocked but I was surprised to see an Essie stand so I'm hoping the Lincoln Boots will be stocking it as well!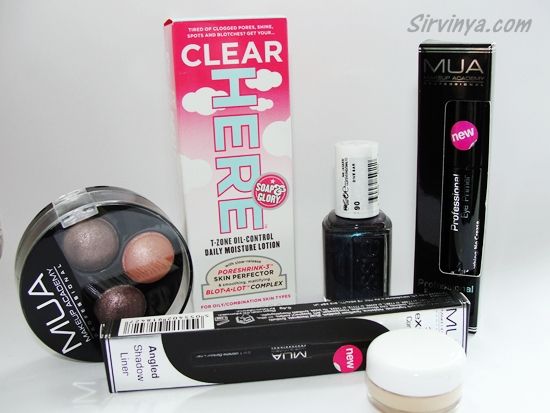 The Boots Advantage Points machine spat out a bonus points for a £20 spend, not hard to do in Boots! I bought:
-Essie "Dive Bar" Polish
-Soap & Glory T-Zone Oil Control Daily Moisture Lotion
-Soap & Glory Shower Puff (not photographed, it's in my shower!)
I managed to go over £20 by 49p so I got my bonus points!
The Superdrug in Boston is pretty good, a fairly new and bright building. It doesn't stock Sleek or Accessorize but the make up side of the shop is pretty spacious. I was pleased to see the previous MUA corner was now a proper stand and included MUA Pro. There was a 3for2 offer on so I got these 3 bits from MUA for the grand total of £5.00!
-MUA Pro Trio Eye Shadow "Chocolate Box"
-MUA Pro Eye Primer
-MUA Pro 3 in 1 Extreme Liner "Fresh Mint"
I also managed to snag myself a little jar sample of Benefit's new liquid foundation. I didn't want to spend £25 on a bottle when I wasn't sure about the colour match.