These little pots from Maybelline have been one of the most hyped launches this year. They finally arrived in the UK recently so I bought a couple to try out. The price was good and reviews have been pretty entheusiatic.
Maybelline Color Tattoos are a cream shadow, sold in a glass jar. They're £4.99 each and there are 7 shades available. There are more available in the US, but I'm not sure how the colours match up as the shades we have here are sold under different names.
The jars are a little deceiving. There isn't a weight listed that I can find but the product only accounts for half the depth of the glass jar. The lid has a sticker that matches the colour of the product and the base is clear. As far as I can tell, the US editions have a black sticker on the top. That's going to make it nice and easy to find the colour you're looking for.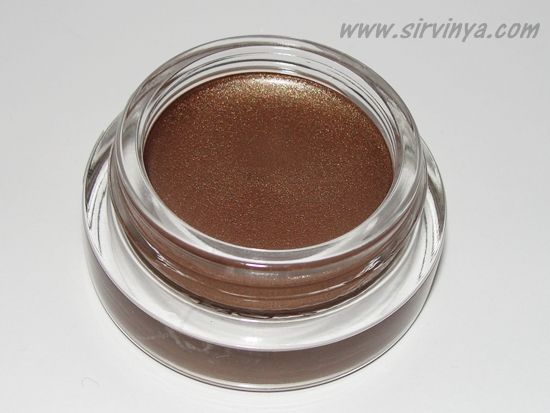 On And On Bronze is a metallic bronze with cool undertones that become more apparent when it's applied heavily. The cream texture is quite dense, it reminds me a lot of MAC's Paint Pots and Benefit's Creaseless Cream Shadows. It dries down quite quickly if you've applied a thin layer.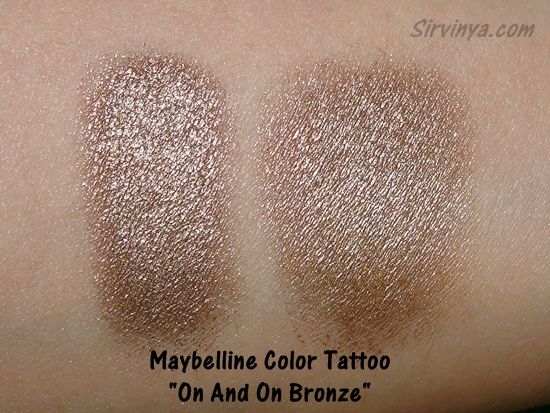 The left swatch shows it applied quite heavily, the right shows a blended swatch. I apply this with either my ring finger or a synthetic brush. I'm quite liking the Real Techniques Base Shadow Brush for applying this. It blends the shadow out quite nicely as I apply and doesn't pick up too much.
I wasn't expecting much from these to be honest, despite the rave reviews. I just haven't had much success with drugstore brand cream shadows, they crease on me in minutes. These claim to last up to 24 hours, a claim I haven't tested as I never wear make up that long! However, these lasted the 10 hours wear that I gave them with only minimal fading at the outer edge and no creasing. I just applied a very thin blended layer over bare lids, no primer was needed!
I am planning on trying more of these, I've got the charcoal one around somewhere and I think there are a couple flying over the ocean to me now!