This is the second of the UK release Maybelline Color Tattoos that I own. I recently aquired 5 of the US releases which I'll also review once I've managed to test them out.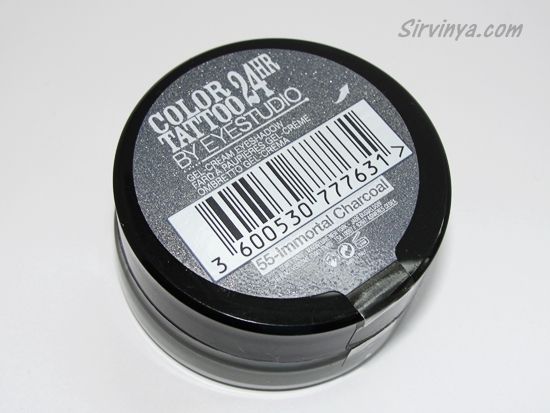 Maybelline Color Tattoos are a cream shadow, sold in a glass jar. They're £4.99 each and there are 7 shades available. There are more available in the US, but I'm not sure how the colours match up as the shades we have here are sold under different names.
The jars are a little deceiving. There isn't a weight listed that I can find but the product only accounts for half the depth of the glass jar. The lid has a sticker that matches the colour of the product and the base is clear. As far as I can tell, the US editions have a black sticker on the top. That's going to make it nice and easy to find the colour you're looking for.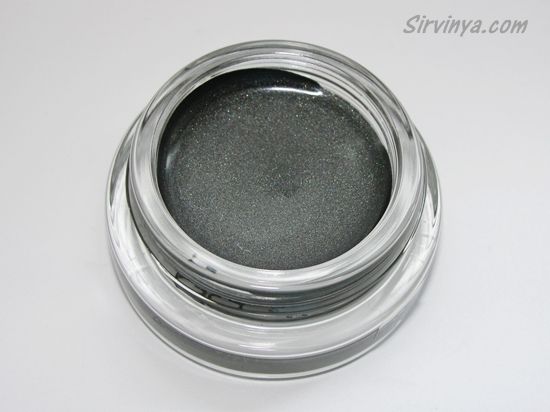 Immortal Charcoal is a surprisingly complex shade. Superfically, it reminds me of Benefit's Skinny Jeans but after use, the Maybelline is much greyer. It has a shimmering grey base with warm undertones and some golden shimmer that becomes more evident as you sheer out the shadow. This feels a little drier than the other Color Tattoo I've reviewed, On And On Bronze, but this is not as metallic.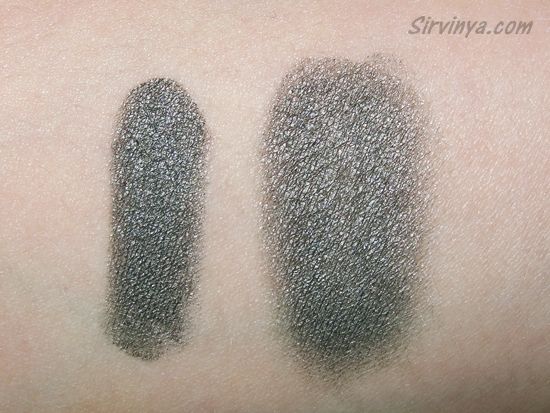 The left swatch is a heavier application and the right swatch is a blended out application. This is really nicely pigmented which was a surprise. I wasn't expecting much when I first bought these as I've never had much luck with drugstore level cream shadows but these are pretty amazing to be honest! This didn't crease on me at all throughout a full 12 hour wear. They claim to last 24 hours on the packaging but I've never needed to wear these for 24 hours! Even with my slightly oilier lids these don't crease, even without a primer. I do need to apply a thin layer and blend out though. If I pile it on then I will get creasing and it won't even set! They do set quite quickly as long as you've applied a thin layer.
I love these and I'm planning on buying pretty much all of them!