Initial Impressions: I was first introduced to Victorian Disco Cosmetics at the end of 2011 when the owner asked me to review some of her eye shadows. I love to feature Indie companies on here so I jumped at the chance! Her shadows were great and I've used a few in FOTD posts. When a 25% flash sale was announced, I knew I had to put in an order so I could add Victorian Disco to my slowly growing pile of Indie Shopping reviews. These reviews only get written when I have spent my own money, not when I have received products for review. This way I can review the entire order process.
Anyway, there is an Etsy store front but a new site has appeared recently. Everything is moving over to the new storefront. Photography of the products is nice and clear, with ingredients listed for each colour. The new site has them grouped by collection, which is nice and easy to navigate. You can order samples, small jars, or full sized jars.
Order: Set of 10 mini jars priced at $18.00. I used a 25% flash sale coupon so I paid $13.50.
Shipping: To the UK - $5.00. Perfectly reasonable for a set of 10 mini jars. I received a shipping notification the next day and the parcel was in my hands 5 days later. That's abnormally fast for US to UK shipping, I usually expect 7-10 days at a minimum.
What did I get?: The 10 jars were wrapped in purple tissue paper in sets of 5 in a pink organza bag. Two samples in baggies were included, along with an invoice with a thank you note attatched.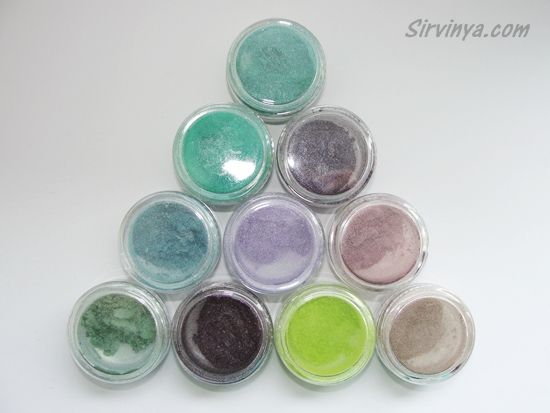 The jars have a label on the bottom showing the name, ingredients, lip safety and if the colour is vegan or not. The mini jars are the domed bottom jars, each containing 1g of product.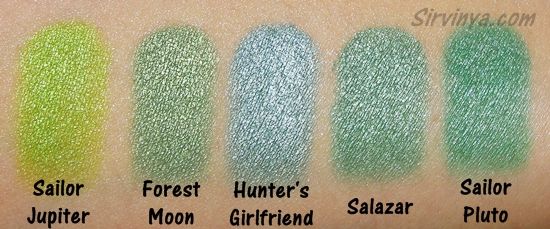 Sailor Jupiter - bright, citrus green shimmer
Forest Moon - aqua green with golden shimmer
Hunter's Girlfriend - mid blue shimmer
Salazar - green with silver shimmer and sparkle
Sailor Pluto - teal green with pink shimmer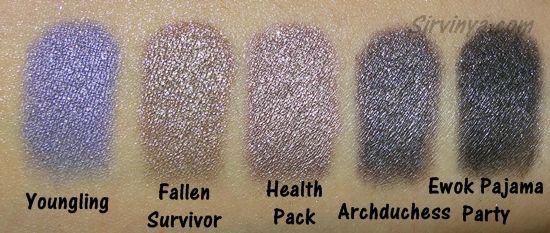 Youngling - light purple with golden shimmer
Fallen Survivor - pinkish taupe with strong pink shimmer
Health Pack - purplish taupe with some golden shimmer
Archduchess - muted purple shimmer with gold sheen
Ewok Pajama Party - purple with a blackened base and golden shimmer
The shadows all feel smooth and they are quite pigmented over a primer. As with most mineral shadows, you need a sticky primer to show these at their best. Some of the shades are really quite unique, I really like Health Pack and Fallen Survivor. Plus I decided I needed more of Archduchess after receiving a sample of it previously.
Would I order again?: Yes, there's plenty on the site that I've got me eye on!