After trying out Bourjois Healthy Mix Serum Foundation I decided I needed to try the original version, which was supposed to be better for oilier skin.

Bourjois Healthy Mix Foundation is available where ever Bourjois is sold. For me this is Tesco, Boots and Superdrug though it may be available at other places. It costs £9.99 for 30ml.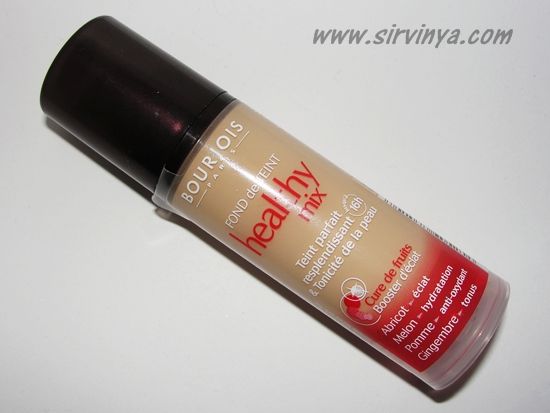 After I finally got on with the Serum version of the foundation, I decided it was time to try the original formulation. At the time I hadn't realised that the Serum was more suitable for drier skin and the original was more suitable for oilier skin. As my skin is oilier these days, I thought it was worth a try. Shades seem to be quite consistent in the range so I again bought #51 - Light Vanilla.

This foundation comes in a slightly different bottle to the Serum version, this one coming with an airless pump. I wish all foundations were packaged this way, there's much less wastage than a regular pump.

One pump will cover my whole face. I apply using a synthetic buffing brush such as the Sigma F82 or the Sephora Mineral Powder Brush.

This isn't a gel foundation in the same way that the Serum version is so it's much thicker and creamier in texture. I found that I don't need to wait for it to set on the skin either. It offers slightly more coverage than the serum version, which can be quite handy!

I'm not sure about the claims for radiance boosting due to all the fruity ingredients but my skin does look good while I'm wearing this. It looks healthy and glowing without quite reaching the same dewy finish as the Serum version. It gives a matter finish (but not entirely matte) but without any flatness to the finished look.

I do get a slightly better wear time out of this foundation, probably lasting a couple of hours longer than the Serum version before I notice any oily feeling (as long as I use a shine control primer). If I remember to powder, then I'll easily get 12 hours out of this.

I've used this in a few recent FOTDs:
-11/03/12
-10/03/12
-25/02/12

I definitely prefer this over the Serum version, although that's not a bad foundation in itself, this just suits my skin type a little better.