This is one I'm blaming completely on Liloo. During the whole Unicorn Pee debacle, she told me the new polishes from L'Oreal that I had ignored were actually pretty good. There was one in particular that I apparently needed to get my hands on!

L'Oreal Color Riche nail polishes cost £4.99 for 5ml and are available at Boots and Superdrug. There's a pretty impressive range of shades available. Tesco are selling a smaller range of these, but I haven't checked any where else.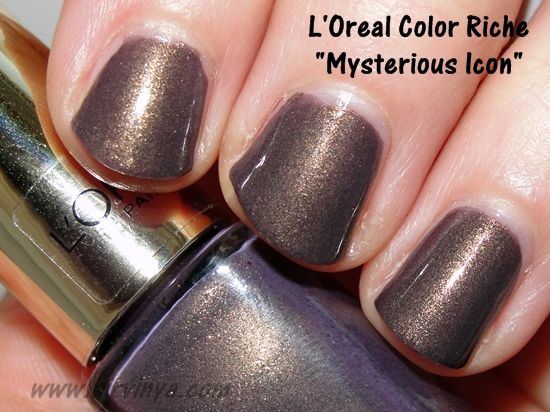 Mysterious Icon is certainly a stunner. Somewhere between purple, grey and brown with some copperish glimmer. This is 2 coats.

The brush is weird. It's the widest brush I've come across and it looks almost comically out of proportion considering how narrow the bottle is! It works to apply the polish in about 2 seconds though!

I'm pretty impressed at the minute at the drugstore nail polish offerings, they are certainly improving and offering shades and finishes that you'd previously only find in a £10+ bottle of polish. I actually have 2 more of these polishes to use and I'm definitely planning on buying a few more.