MAC just aren't that good at purples. This isn't too bad, but they have definitely done better.



Satellite Dreams is a mid toned purple with shimmer. It doesn't lean too red or too blue but it's still on the bluer side of purple (but not as much as a violet). It's a Veluxe Pearl and has a soft, smooth texture.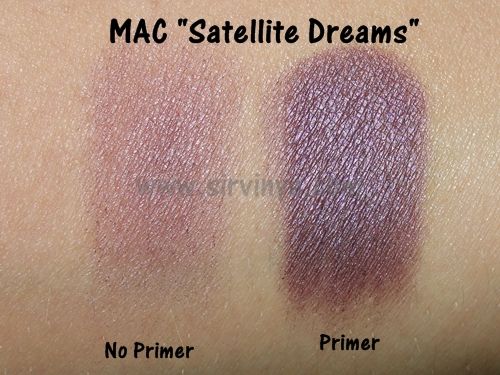 As is true with most purples, this isn't as pigmented as other colours. For some reason purples are sheerer through most brands of eye shadow I have. A primer is definitely needed here. It fades with a grey tone very quickly if I don't wear one. Over Urban Decay Primer Potion it will show much truer to the pan and last a good 7-8 hours. Even with a primer, it fades a touch sooner than other shadows I have from MAC.

I like to pack this on over the lid and add plenty of smudged black liner to create a great smokey look.


MAC Shadows are available from MAC (website/stores/counters):
-Pro pans are £10.00
-Pots are £12.00