Throughout February I'm going to be clearing out a backlog of photos so I can start fresh with swatches and product photos in March! I've got photos that have been hanging around in my folders for 18 months at least!

I've got another treat to show you from Vivo Cosmetics today! The eye shadows from Vivo Cosmetics cost the grand total of £1.50 and come in 2 finishes: matte and pearl. I haven't tried any of the mattes yet but I've got a few of the pearls. They're available at selected Tesco shops and you get 3.8g of product.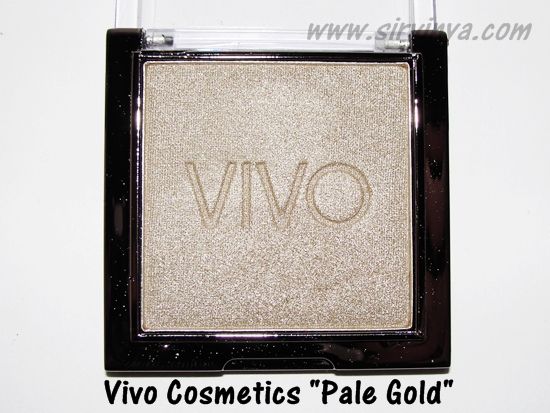 The packaging is pretty sleek but not too flimsy. The lid doesn't snap shut too securely so I'm not sure how this would stand up to being carted around in a make up bag. There's no foam applicator, which to me is a bonus as I don't like them. The word "VIVO" is stamped into the shadow, quite deeply so it's going to last through a few uses.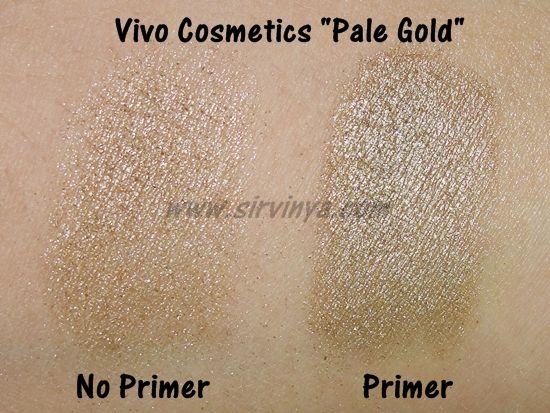 This shadow feels a little drier in texture than Mink, but it's still fairly smooth. Pale Gold is a light, shimmery beige-gold. I initially thought something called Pale Gold might be on the whiter side but I like this beige toned gold, it makes it a nice neutral to wear without being too stark on the skin.

This has a good level of pigmentation, showing nicely even without the primer. But it's a much smoother looking shadow and lasts much longer on my lids when used with a primer, such as Urban Decay Primer Potion.

This shadow features in this FOTD post:
-17/01/12