I'm still clearing out folders full of blog pictures and just found one full of MAC brush photos! My computer tells me I saved this in September 2010. That's pretty much why I'm emptying folders right now!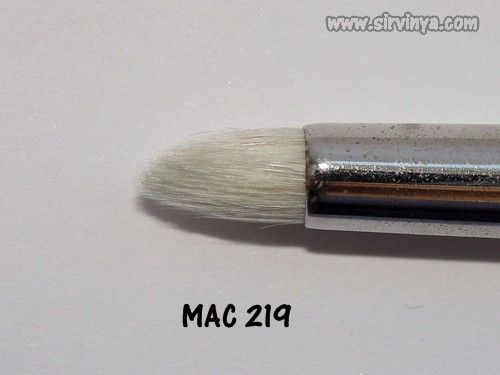 The MAC 219 brush is available from MAC shops, counters and the MAC UK website for £19.00. I should imagine it's available world wide, wherever MAC is sold.

This is an interesting little brush that I've had now for quite a few years! I don't have any absolute definite use for it in my routine and I can easily go a few months without even picking it out of my brush holder. MAC calls it a pencil brush and that name is definitely true for the shape! It's quite small and pointed, much smaller than the MAC 217 brush. The bristles are made of white goat hair (the same as the 239 and 217 brushes) and it has a good firmness to it. I find that the bristles don't splay out after cleaning as long as I reshape them.

I use this brush for a few different things. It can add a touch of highlight to the inner corner of the eyes to brighten up the eye area. I have used it in the past to add a very defined crease, it's definitely useful for creating a sharp cut-crease look. I do mainly use this for smudging eye shadow on top of pencil liner on my bottom lash line. Though I'm much more likely to use the MAC 214 for that these days.

It cleans up just as easily as my other goat hair brushes, I just use MAC brush cleaner to give them a good clean. It can stain with highly pigmented blues, pinks and greens but I find that it will slowly rinse out over a few cleanings.

I have got the Sigma dupe, the E30, but I have found that it's a much softer brush and doesn't work quite so well for me.