This is a nail polish that I have debated over buying for ages. I don't know why, it's not like Rimmel polishes are going to blow my budget. These fast dry polishes come in at less than £4.00 in the Tesco I buy my lunches from (my local one doesn't sell any make up).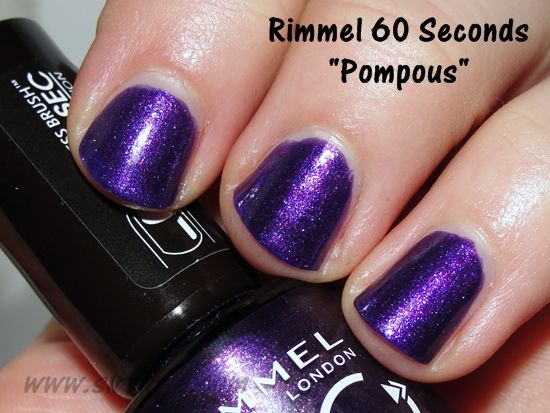 Purples are so hard to photograph! It still is showing a touch too blue, which is annoying but purple polishes are notoriously difficult to photograph accurately. The colour is pretty gorgeous though, it's not quite the delicious Cadbury purple but it's close and it has some lovely red and blue micro-sparkle. It's not quite as fine as shimmer but it's not large enough to be a definite sparkle.

This shows two coats. The first one was so thin that I thought this just would never work but it was perfect after the second coat. I find fast dry polishes do dry to a slightly dull finish so a top coat is definitely needed with this.

It was actually lasting quite well, I'm trying out the Zoya Color Lock system right now and it seems to be working. Until I spend part of my afternoon shovelling snow from around my car!