Throughout February I'm going to be clearing out a backlog of photos so I can start fresh with swatches and product photos in March! I've got photos that have been hanging around in my folders for 18 months at least!

I've got another Mineralize Duo for you today, this one isn't one I reach for often enough. The richer shade is just gorgeous!

Mineralize shadows are a little more expensive than the regular pressed eye shadows but you get 2.2g of product compared to 1.5g (or 1.3g, depending on the texture).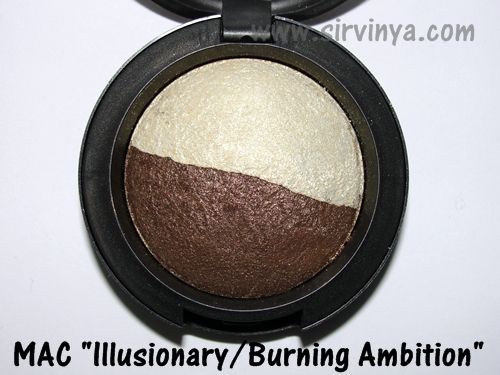 Illusionary/Burning Ambition is one of the "plain" Mineralize Duos, meaning that both sides are just one colour. That doesn't mean that the eye shadow itself is plain though! While the colours are more of the toned down variety compared to many of my eye shadows, they are still absolutely gorgeous! Definitely one of MAC's better quality eye shadows!

One side of Illusionary/Burning Ambition is a golden cream shimmer with strong golden iridescence. The other side is a rich, golden brown with some bronze tones to the shimmer.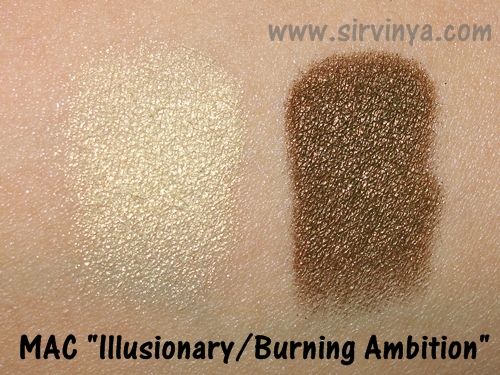 Pigmentation is pretty good for a MAC Mineralize Duo. It's not nearly as light and floaty as other Mineralize Duos I have. It almost has a little creaminess in the texture. The lighter side isn't as strongly pigmented as the brown though. I find a sticky base (Fyrinnae Pixie Epoxy or NYX Jumbo Eye Pencil) is still needed for the lighter side to show its best but the brown will work just fine over something like Urban Decay Primer Potion.

The haul that featured this was actually one of my very first posts on my blog! Check out my Meadowhall Haul! I also dug out a very old FOTD post where this was used:

-09/11/09


MAC Mineralize Shadows are available from MAC (website/stores/counters) for £16.50.