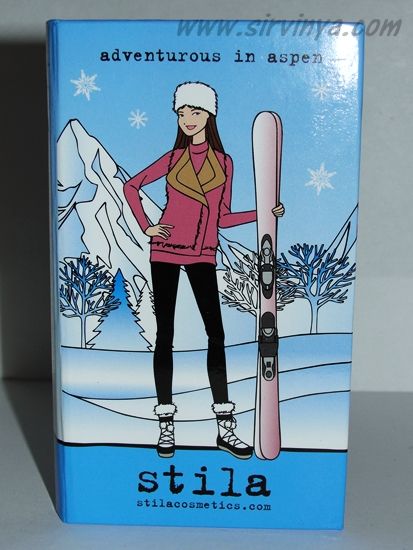 I've got plenty of mixed feelings about these palettes from Stila. On the one hand, they're $10 which is a bargain. On the other hand, the quality is just not what I'd expect from Stila. I think if this had been my first introduction to the brand I would have written it off and not bothered with it again.

They come in the usual card cases along with a mirror but not applicators. The names of the products are shown on the back. The case is the same card that a lot of brands are using these days. It'll stand up to plenty of use but make sure not to get it wet!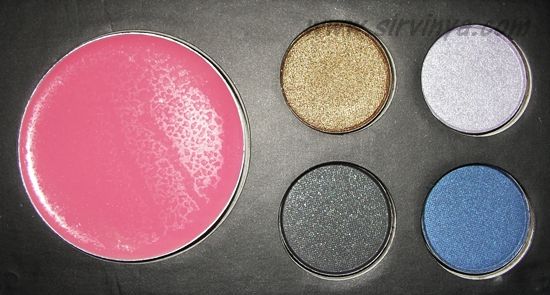 And I forgot to label the photo. You get 4.3g of eye shadow over 4 shadows and 2.7g of the convertible colour. I'm not a massive fan of mixing cream and powder products in one palette and there are already black flecks in my convertible colour after only a couple of uses. But for travel, it's about the perfect size and you've got shadows and blush in one place.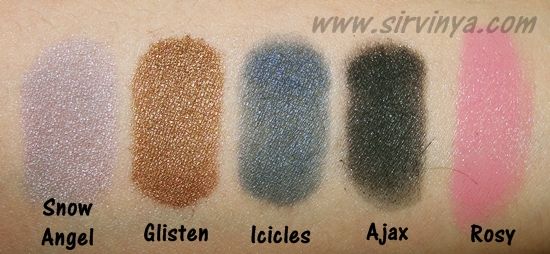 The quality of the eye shadow is ok, not brilliant and certainly not the silky, buttery texture I love in the single shadows. You get:

-Snow Angel - sheer lilac-grey with golden sparkle
-Glisten - golden brown with a golden shimmer
-Icicles - satin finish deep blue with grey tones
-Ajax - almost matte black with golden sparkle
-Rosy Convertible Colour - bright but light pink, cool toned with no shimmer

I'm really impressed with the Rosy Convertible Colour. This was the first time I'd used one and I loved how easily it applied and blended as a blush. It didn't last all day though and had faded at around the 6 hour mark. I should imagine setting with powder would increase the staying power.

The shadows weren't amazing. Snow Angel was very sheer and refused to build, even over Pixie Epoxy. I really wanted to use it as a lid shade but I just couldn't get it to work for me. It's quite smooth and soft though. Glisten was by far the best shadow out of the 4 and applied with plenty of pigmentation. Icicle ended up being quite patchy and sheered out to grey very quickly. My swatch shows it packed over a primer. Ajax was another shade that was quite good but not amazing. The golden sparkles didn't translate to the skin at all but the base colour was deep enough to use to smoke out your eye shadow.