I hadn't seen anything about Victorian Disco Cosmetics before I got the chance to try them. But a quick look at their Etsy page had me interested!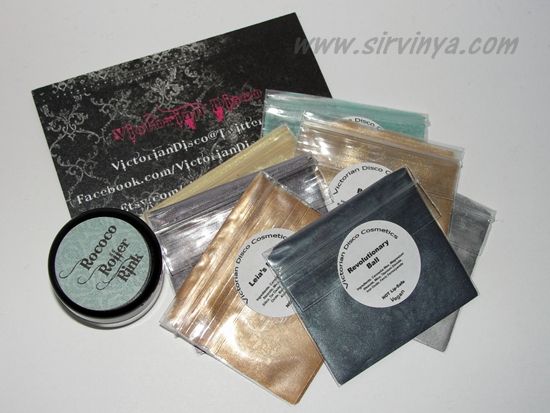 I received a full sized jar and 7 sample baggies to try. Jars are $4.50 each and samples are available in jars ($1.75) or sets of sample baggies (prices vary depending on the number).

Photography is clear but the shadows look a little unremarkable. It can be very hard to get accurate photos of minerals in jars so I tend to go more on the swatch photos (if they're available) when shopping for minerals on Etsy. The swatch photos are much more interesting and show the complexity of the colours so much better than the jar photos.

Ingredients are not listed on Etsy but I found the owner very helpful so if you have any questions about ingredients then just send her a message! All items are listed as vegan. Ingredients are printed on labels that come on the full sized jars and the sample baggies. The label also lists if the colour is lip safe or not.

ETA: Ingredients are now listed on each Etsy listing.

The texture of these is very smooth, which is expected with the Carnauba Wax base. It's becoming one of my favourite bases, it creates a very smooth eye shadow. I did notice though that some of the lighter shades are a little sheer and definitely need a good, sticky base. The deeper shades were more pigmented.

The names of these are awesome.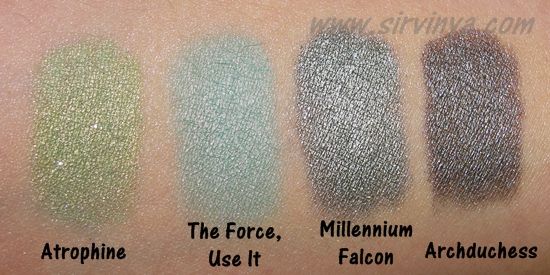 -Atrophine - Light green shimmer with golden sheen and sparkles
-The Force, Use It - Pale blue-green with pink iridescence
-Millennium Falcon - Dark silver shimmer
-Archduchess - Dusky purple shimmer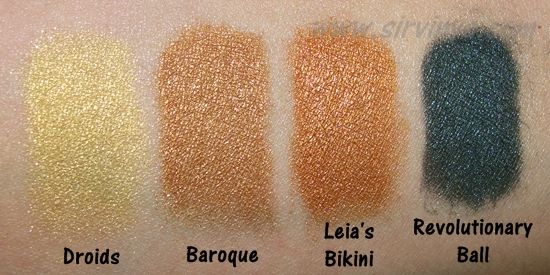 -Droids - Yellow gold with shimmer and sparkle
-Baroque - Light golden brown with shimmer
-Leia's Bikini - Warmer brown with gold shimmer
-Revolutionary Ball - Black base with a blue-green iridescence

I will have a FOTD with these for you in the next day or two. I've been playing with these over the last week but my skin has been reacting to *something* so I've not really wanted to do a full FOTD. It's calmed down now so maybe it was just unhappy with the sudden shift to Arctic conditions.

I am quite impressed with what I've tried so far! My favourite shade so far has to be Archduchess, it's a nice dusky purple that doesn't lean too far into the plum tones. Revolutionary Ball makes a fantastic liner when applied with a damp brush.

Wear time is pretty average for mineral eye shadow. I wear all my mineral shadows over Pixie Epoxy and it happily sits there from when I put it on in the morning to when I wash it off in the evening.

I would probably order myself in the future. I especially need a full sized jar of Tuxedo Mask. Mmmm, taupey goodness.

These products were provided free for review. This has no effect on the review I give.