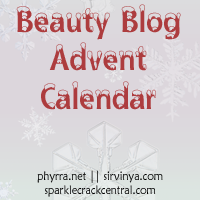 Sparklecrack Central came up with this neat idea where three of us (Sparklecrack, Phyrra and myself) post a little beauty blog related tidbit every day, up until Christmas Day. Like a little beauty blog advent calendar! These might be posts from other blogs we've enjoyed, new products, swatches, just anything beauty related!

Beauty Blog Advent Calendar - Day 21:




Featuring Pixiwoo again today, this time one of Sam's videos. This looks so easy to create and a fun way to wear purple. I might have to give this one a go!

We've even got a tree! Click the days to see what we picked!