This was the first collection released by the re-opened Aromaleigh. Sparklecrack Central sent this over for me as when the site opened again, international shipping was not available. Worldwide shipping is now available.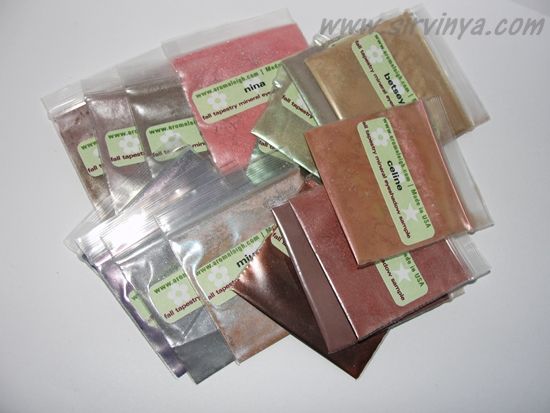 Compared to some previous collections available from the original incarnation of Aromaleigh and the collections that have been released since, this one is quite a toned down selection of colours. There are some pretty shades in here but I'm looking forward to some more of the adventurous shades that attracted me to the company in the first place.

All swatches are carried out with a dry brush over Detrivore primer.



-Nina - coral/pink shimmer
-Alice - brown/taupe shimmer
-Vera - warm taupe shimmer
-Donna - chestnut brown shimmer with teal sparks



-Miuccia - pale cream with blue iridescence
-Alexis - cool grey/blue shimmer
-Sonia - blue violet shimmer
-Elie - blue base with pink/copper iridescence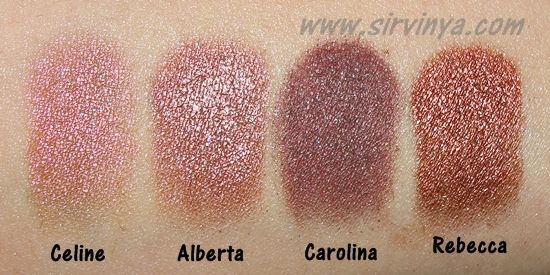 -Celine - copper with pink iridescence (reminds me a lot of MAC Pink Bronze pigment)
-Alberta - soft coppery shimmer with some pink sparks
-Carolina - deep, soft brown shimmer
-Rebecca - metallic copper with golden sparks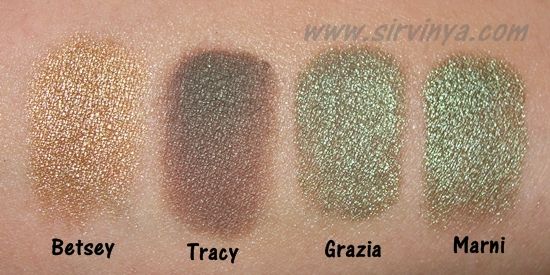 -Betsey - warm golden shimmer
-Tracy - warm grey base with slight green iridescence
-Grazia - sage green shimmer
-Marni - deeper grey/green shimmer

I also ordered a full sized jar of Rebecca without actually seeing the sample myself, simply because it's the most awesome name out of the collection. The sample sizes have been doubled for the same price so you're now getting 1/8tsp.

I'm hoping that the Starry Night collection is still around when my no-buy is over (the Fall Tapestry samples were ordered before I started that) so I can order plenty of those.