Initial Impressions: I have previously reviewed products from Silk Naturals, but I haven't reviewed the order process. Some new products were released that looked interesting and I wanted to try their unique foundation system. So this time I ordered a few products to see what the turn around time and shipping was like. There truly is a huge range of products here, so there's plenty to explore.

You can create an account in order to make the ordering process simpler. You can track all previous orders and there's also a loyalty point scheme, which I don't think I've seen done with any of the companies I have ordered from in the past. Also, there is usually a gift with purchase colour if you spend over $10. While shopping, there is a cart at the top of the page which shows the cost of what you have in there.

Order: Sample of the foundation kit for $3.95, Eye Shadow Enhancer for $4.99, Torn Fishnets & Spellbound shadows for $4.00 each.
Shipping: To the UK - $6.55. I received a shipping notification 3 days after ordering.

What did I get?: My order came in a bubble envelope with a leaflet showing my order and product ingredients. All my stuff was wrapped nicely in pink tissue paper but I was too eager to get into the goodies and didn't take a photo! The Shadow Enhancer was wrapped in a separate sealed bag so the rest of my order would have been fine if there were any leaks.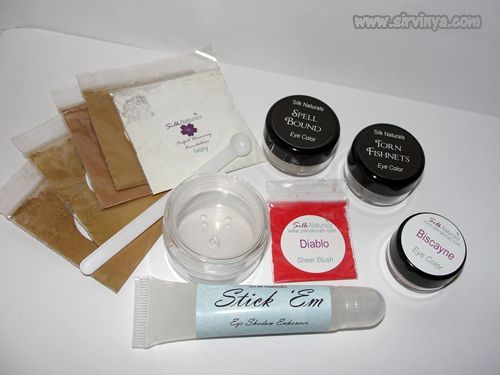 I also received a gift with purchase small jar of Biscayne and a baggie sample of Diablo blush. The gift jar changes each week.

Reviews of the foundation system and the shadow enhancer will be coming up in the future as both require a little more testing than the eye shadows!

The swatches are done with a dry brush over Detrivore primer.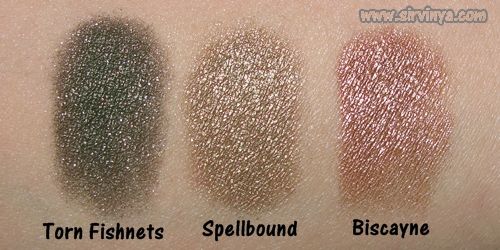 -Torn Fishnets - Deep charcoal base with silver and gold sparkle
-Spell Bound - Slightly greened gold shimmer
-Biscayne - Rosy coppery shimmer with a bit of silver sparkle

Once again, I'm really pleased with these Silk Naturals eye shadows. They may not be the brightest or most intense out there but they are very reasonably priced and of excellent quality. I'm more than happy to continue spending money on them!

*Scheduled post*