Wore this to a New Year's party last night. Hope you all had fun, however you chose to welcome 2011! I'm aware it's virtually the same as what I wore last year on 1st Jan, I'd been looking through my blog earlier on in the day.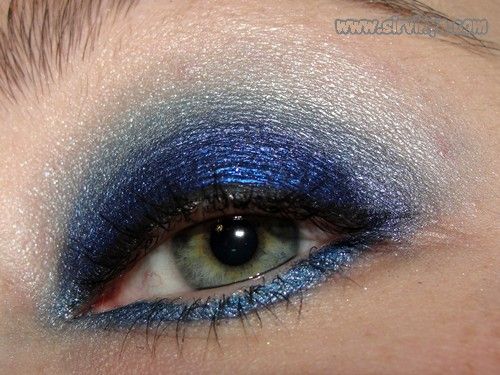 I used:
-Benefit POREfessional Primer
-Diorskin Nude Foundation "020"
*-ELF High Definition Powder
-Nars Blush "Outlaw"

-MAC Paint "Untitled"
-MAC Paint Pot "Blackground"
-MAC Mineralize Duo "Sea & Sky" - dark blue wet over lid & lower liner
-MAC Mineralize Duo "Sea & Sky" - light, marbled side in crease
-MAC Shadow "Jete" - highlight
-L'Oreal HiP Cream Liner "Black" - top liner
-Gosh Velvet Touch Liner "Majestic Sea" - lower liner
-L'Oreal Panoramic Curl Mascara

Apologies for the myspace-esque photo, it was the only one that came out semi-decent.