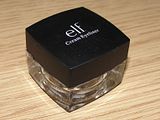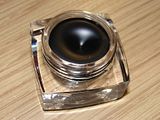 This cream eyeliner is the newest addition to the ELF Studio family, and is one that really was needed! I do think that we've needed an affordable cream liner over in the UK. I can't think of any drugstore equivalents that are available over here. The US has the L'Oreal HiP and Maybelline liners, neither of which are sold over here (boo!). I'm keeping a close watch on the Maybelline stands in case the liner does make an appearance.

But this liner from ELF fills that gap! It's available from ELF Cosmetics UK (and I'm sure it'll be on the US site as well) for the grand total of £3.50. I suspect if the Maybelline liners ever did make an appearance in the UK, they'd cost more that £3.50! It comes in four colours: Black, Coffee, Midnight & Ivory. Quite an interesting choice of colours there. The black, dark blue and brown are pretty much expected shades, but the Ivory is not. I honestly would expect a dark green or purple instead. I wonder if that one would be good as an eye shadow base or if it's going to show enough as a liner. Anyway, I'm reviewing the black one.

You do get quite a bit for your money in this pot (4.7g). For comparison, MAC Fluidlines are 3.0g and cost £12.50. I took the photos for this review before I repurchased my "Blacktrack" so I'm afraid I don't have any comparison photos.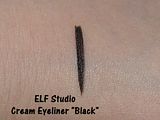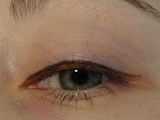 Colour-wise, it's pretty much a plain black. Nothing fancy about it. It's a decent enough black, but not the deepest black cream/gel liner in my collection. The swatch photo is of the cream liner layered twice, as is the eye photo. It's just not quite pigmented enough to leave as one coat. It sets pretty quickly as well. The line on my hand was smudge proof in less than a minute. I do get a little smudging from the line on my lid, but my lids are becoming oilier over time. It's only a little though, the bulk of the line lasts all day when I wear it with eye shadow.

I like to apply this with the Studio Small Smudge brush, which I'm beginning to love to apply all my gel and cream liners! The edge of the brush applies a very thin and precise line.

I've not had this long, so I can't comment on how quickly it dries out. The cream liner does come in a plastic jar though and I have noticed in the past that liners which come in a plastic jar do tend to dry out faster than those in a glass jar. But this is only £3.50 so I don't expect a glass jar. As with all cream and gel liners, make sure to store this upside down to extend the life of your liner.

Well worth trying out.

The liner and small smudge brush were provided for free to review. This has no effect on the review I give.