ELF Cosmetics don't have a very large range of mascaras and so far this is the only one I have tried. Mine is in "Dark Brown" which is unusual for me as I normally buy the black one. I will be buying the black one very soon though.
This mascara is part of the ELF Studio range and is available for £3.50 from ELF Cosmetics. It is available in both brown and black and also a non-waterproof version.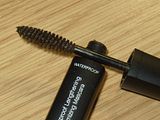 The packaging is basic, as is true of the whole Studio line. I do like the sleek black packaging, it looks more expensive than it is! This tube is designed a little differently than most of the other mascaras I have. You'll notice from the photo on the left that the lid is very long, and the part that holds the product is quite short. This means that the wand inside the tube is very short. As you are holding the lid very close to the wand, I have found that I have much more control when applying this mascara. Normally, the wand is quite long and you're holding the other end to the one that you're trying not to poke yourself in the eye with!
The wand is quite simple, none on the fancy stuff that the high street brands are so fond of! It's one of the stiff haired wands, not a the soft plastic, and there is no flex. It's shaped so that it's wider in the middle than at either end and the bristles are spiraled around the wand.
I really do think the application photos can speak for themselves! There is a huge amount of extra length, without the use of annoying fibres, and there is a decent amount of extra volume. Not as much as I would get from just a volumizing mascara, but this one is doing both.
I don't usually have an issue with smearing mascara, but this is waterproof so it shouldn't be an issue at all (unless you have very, very oily skin). It doesn't come off with a regular eye make up remover, but does with the two level ones (they have an oil layer) and cleansing oil.
This is a mascara that I plan on keeping in my collection. It's cheap and it does a wonderful job.
This product was sent to me for free to review, it has no effect on the review I give.