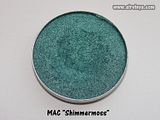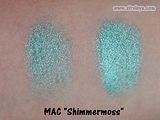 Time for another of my MAC shadows. I picked out Shimmermoss as it was the topic of discussion on Twitter earlier today.

I finally managed to get onto the MAC site so I can actually give you pricing information this time.
-Pro pans are £9.00
-Eye shadow pots are £11.00

In the picture, the shadow is swatched dry onto bare skin on the left and dry over primer on the right.

I do have to confess, this is my absolute favourite MAC eye shadow! I adore this colour. It's not too apparent from the picture, but there's a huge dip in this. I'm almost at the pan. Not quite time to buy another one yet, but I'm hoping MAC doesn't discontinue this shade! I actually bought this the day the Veluxe Pearl finish was released in the UK.

Shimmermoss is a gorgeous teal with a turquoise pearl shimmer. It's one of the veluxe pearl finishes which I think are some of MAC's best. Although I do think some of the newer releases of veluxe pearl shadows haven't had the same rich pigmentation of these. Shimmermoss is very pigmented and rich in colour. The finish is very soft and smooth, along the same lines as the ME finish from Shu Uemura and the Deluxe shadows from Urban Decay.

I love this over a green base, something like "Lucky Jade" shadestick, in order to bring out the green tones. I wear this a lot with "Freshwater" or other deep blues and greens.