Yes, I know it's the 14th and I'm only just getting this up. Bet you all thought I'd forgotten! I recorded the video to this last weekend but I haven't had much chance lately to get anything up on my blog or YouTube channel. I haven't worm much in the way of make up lately, but there are a few products that I have been using.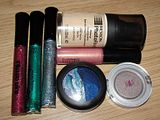 -Collection 2000 Glam Crystals Glitter Liners

- I always forget how much I love these. I reviewed them recently and I've been wearing glitter liner more than perhaps I should. These are some of the best on the market.


-Me Me Me Eye Shadow "Cafe"

- an absolutely gorgeous taupe. Surprisingly well pigmented for a cheap drugstore brand. It's very smooth as well.


-MAC Mineralize Duo "Sea & Sky"

- quite possibly my favourite item that MAC has ever released. Why can't all of MAC be this awesome?


-MAC Lipglass "Nymphette"

- very pretty golden pink, quite a basic shade that lots of brands have. I've just had this one in my handbag recently so I've been wearing it a lot.


-Revlon PhotoReady Foundation "Vanilla"

- can't wait for this to come out over here, you're going to love it!