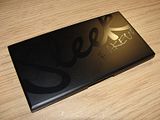 I had a video review requested for this palette which I recorded the other day. I haven't got round to editing and uploading yet (maybe tonight?) but I got some great pictures of it so I thought it should appear on here as well.
This was released at the same time as the Graphite Palette. The Graphite was limited edition and sold as quickly as you'd expect, and the Sunset one was released as a permanent item. I got sent the Graphite palette to review but I bought the Sunset from Lincoln when I found out one of the Superdrugs there had started stocking Sleek Make Up.
I was a bit surprised that a palette with so many rich reds and oranges was released in November. Surely this would have been better over the summer? I also wasn't sure how the blue was going to work, it seemed out of place with all the other warm toned shades.
As usual with Sleek palettes, the eye shadows are very richly pigmented. The texture is a little crumbly but when you swipe them they feel almost like a cream. Make sure you don't drop this palette, I'm sure the eye shadows would shatter. I have no issues with blending these and they'll last all day with a good base. Just be careful though, some of the reds (and the blue) may be a little staining.
I've recorded a video using this palette after a couple of requests from Blogtv. I had been asked for reds and more Sleek. You can see it here.
In actual fact, this palette did work quite well for a November release. Although we can't really pretend November is still the nice part of Autumn (as in, when all the leaves look pretty rather than everything being cold and damp), the palette works as an Autumn palette. The rich reds and oranges are perfect to reflect the changing colours of the leaves. I can't help but think of the stunning images we see of Autumn in Canada when I see this palette.
Onto the swatches! Swatched over primer on my arm, top row first.


It contains the usual matte black shade, which is actually pretty useful. I like it as a crease or liner shade.
This palette is pretty versatile, despite initial opinions. There are a couple of softer shades to use in case you don't fancy adding red to your lids! You could use one of the lighter shades on your lid with a bit of the dusky reds smudged on the outer edge. I found the blue worked really well as a lower liner to contrast with the reds I have used on my lid.
I wonder if Sleek are going to be releasing any more palettes soon...