I have had these brushes for quite a while now, I really wanted to put them to the test before reviewing them. I have used and washed these numerous times so now I think I can give you a thorough review!
ELF Studio brushes are sold on eyeslipsface.co.uk and they cost £3.50 each. Yes, every single one of these brushes is £3.50! All brushes have synthetic hair (Taklon) and are cruelty free.
As an overview of all the brushes: they are all black handled with black ferrules and bristles. I've lightened some of the images so that the detail of the brush head shows. Taking decent photos of these brushes was hard! Some of the brushes don't feel at all as though they are synthetic, they feel as soft as some of the animal hair brushes I have. The handles are all a nice length, all the brushes are roughly 17cm from base to tip. Mine all live in the brush belt, available here for £15.00.
I just want to point out that when I mention some brushes feeling more stiff than others, it doesn't mean that they are in any way "scratchy". I'm going on how soft they feel and how much "give" there is in the brush head.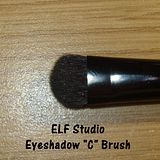 -Eye Shadow "C" Brush - A flat eye shadow shader brush, basically. This is one of the brushes that feels as though it's made of natural hair. A lot of people have compared this to the MAC #239 brush and although it doesn't look like it, it does the same job. The bristles are densely packed and there's a good amount of stiffness to the brush. It picks up a decent amount of eye shadow to deposit on the lid. Not the best for blending as there's not much in the way of give to the head. I use this for depositing colour only.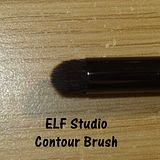 -Contour Brush - A round pencil brush. Another one that has very natural feeling bristles. This is quite a fat pencil brush so I've found it pretty useless for applying shadow to the lower lash line. It's too big, even for the smudged smokey looks I love to create. This is compared endlessly to the MAC #219 brush. It's nothing alike, in my opinion. This brush isn't anywhere near as pointed as the #219, it's much shorter and flatter. It is a fabulous brush for applying a deep crease shade. I like to use it in my outer crease after I have blended out my main crease colour.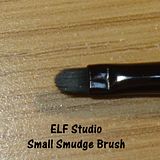 -Small Smudge Brush - An interesting little brush. Most brands would have given us this brush as a lip brush, but ELF class it as an eye brush. Perhaps a little small for a lip brush This is one of the stiffer, obviously synthetic brushes but it is in no way scratchy. ELF suggest using this is an eyeliner brush, or to blend out eyeliner. I've used this so far to apply colour to my lower lash line. I haven't used this for eye liner, though it might be good for the gel liners as it can create a very fine line.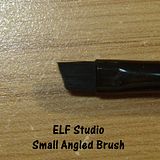 -Small Angled Brush - Your basic angled liner brush that I think pretty much everyone needs in their collection. Another one of the more synthetic feeling brushes. Great for applying gel liner, or use it damp to turn eye shadows and pigments into eyeliner. Compared to the MAC #266, which I think is a close comparison. It's not quite the same, as the #266 is a very stiff natural haired brush. The ELF brush is no where near as stiff, so I find the gel liner application isn't quite so precise but I have no complaints about it at all! I'm just as happy using this one as my #266.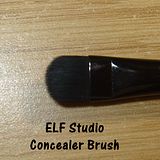 -Concealer Brush - A very good, basic synthetic concealer brush. It's a flat, paddle shaped brush with the stiffer, more synthetic feeling bristles. It works fantastically well as an under eye concealer brush, but I've only ever used it once for that. This brush, for me, shines for wet pigment application on the lids. Applying pigments wet works best with a synthetic brush (natural hair soaks up too much of the liquid) and the stiffness to the bristles means I can apply the wet pigments as though they were a cream eye shadow.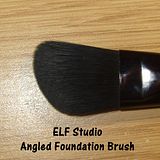 -Angled Foundation Brush - A good foundation brush for applying liquid foundation. Probably the brush out of this set that gets the least use from me. It's a good foundation brush, but I find it's just a little too small. I think it could do with being a little thicker and wider. I always end up with a heavier cover of foundation with this brush, I think this is due to its size. The best use I've found is for blending foundation into the contours of the face (under eye, around nose, near lips) rather than for full face foundation. You might want a little heavier coverage in these areas. Plus the shape means you can create a very precise application.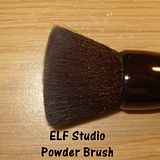 -Powder Brush - Basically a flat topped kabuki with a long handle. This is probably my most used brush out of the whole set. This is a softer brush and the head feels like velvet on your face. No loose hairs, no scratchiness at all. The head is very densely packed so it makes an absolutely wonderful brush to apply mineral powder foundation. I get a flawless finish to my foundation when I use this brush. The softness of the head allows you to really buff your foundation in. Not the best brush for liquid foundation, but use it afterwards to buff in your powder. Also good for finishing powders. ELF also suggest this is as a blusher brush, but it's too big for me to use it that way.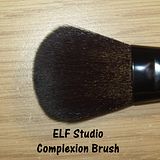 -Complexion Brush - Large, soft paddle brush. I think I need about 3 of these. I use it for blusher, especially the more pigmented pressed blushers and mineral blushers. The softness means I can get a lovely soft flush of colour, even from the most pigmented blushers in my collection. I also use it as a powder brush (after a thorough cleaning!). I stroke this brush a lot, it feels lovely on the skin! It's lovely and dense so it doesn't feel too floppy, even with the long bristles. Can't believe this one is made of Taklon!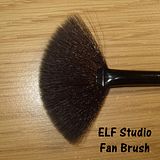 -Fan Brush - Basic fan brush. Again, a brush that everyone needs in their collection. This is quite thin and soft, so I use it mainly for sweeping away any eye shadow that has fallen onto my cheekbones. It picks up it without smearing it over my face! Green stripes would not be attractive! I've also used this to apply my most pigmented blushers, it gives a very soft application but I prefer the Complexion brush for pigmented blusher. A good staple.
So, overall, these brushes are fantastic for the price! I still can't believe they are all only £3.50! If you are looking for some brushes, just beginning or wanting to round out your collection on a budget then I highly recommend these brushes. These have stood up very well for repeated daily use so I'm pleased to have them in my collection.
Just a quick word on washing. I use my MAC brush cleaner on these and wash them in the same wash I do all my brushes, I'm actually quite rough on my brushes. I think I only lost one or two hairs on the Complexion brush the first time I washed it and none on the others, or that one, since. They dry very quickly as well.
If you've bought any of the ELF Studio brushes then I'd love to hear what you think of them!