OK, I have wanted this for *ages*. I saw it a few months ago in Superdrug, just sitting there quite innocently until I tried the tester. Wow. Seriously. I finally caved and bought it on Saturday.
Anyway, you might want to actually read some real information rather than just me drooling over said gorgeous, yummy, Giant Sun Powder (sorry Jasmine, I caved about bought it anyway).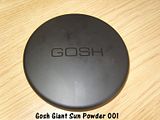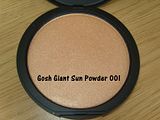 Here it is, open and closed. One thing you can't really tell from the picture is just how big this is. Well, it is called Giant Sun Powder.
Available from Superdrug. £12.72 for 30g.
Yup, you get 30g of product in this monster.
So, it's basically a metallic gold shimmer. It's on the warm side with some definite copper tones. The powder is soft and metallic, also very richly pigmented. You will only need to apply a small amount and blend well. I suggest using a soft angled blusher brush if applying as a cheek highlight, or a large powder brush for elsewhere. I expect I'll be using this as an all over highlight throughout the summer. It'll look fab in the evening when blended over collarbones and shoulders.
Oh yeah, did I mention it's huge: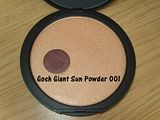 That's a "standard" (ie MAC, Urban Decay, etc) 26mm pan sat on top as a comparison. I think it's going to take a good couple of years to work through this!
And, here's a heavily applied swatch. And my flash has washed out most of the colour.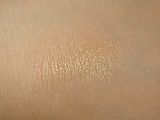 I have no idea if it's a limited edition summer product or not. It's sat with the face stuff on the Gosh stands, not with the current collection at the top. That doesn't necessarily mean it's a permanent item though. If you do buy it, just be careful you get one that's sealed. It has a hygiene seal across the front, but most I've found have been opened. Even though there's a tester out. Gross.