A slight delay for October as I was away for the beginning of November and only got chance to sit down and record some videos on Sunday.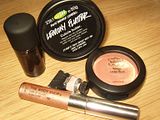 I made a couple of rediscoveries this month and fell in love with a couple of newer items.
-MAC Paint "Untitled" - Used to be a daily staple for me, but I stopped using it a while back. Recently I've been using a very thin layer under my shadesticks to prevent creasing.
-Lush Lemony Flutter - My workplace can dry out my hands and my cuticles, this is a very rich cream that smells divine. It moisturises brilliantly and prevents the cracking and soreness I used to suffer on my hands.
-MAC Nail Polish "Baby Goth Girl" - I adore this shade! A blackened base with purple shimmer and coppery/gold flakie glitter. It chips and doesn't last on the nails but I love the colour enough to forgive that!
-Body Shop Liquid Lip Colour "Golden Coral" - Very pretty lipgloss! I have been wearing this one every day lately, it's a fairly neutral lip colour but just adds a little bit of sparkle.
-NYX Cream Blush "Rose Petal" - I thought this would be too bright, but it blends out to a lovely flush of colour. I'm sure I'll do a more in depth post on this, and other NYX, very soon.
My NYX goodies have come from Smart Beauty Shop, who are UK based.