I've just got to give a huge

thank you

to

Mizz

Worthy for nominating me for the I Love Your Blog award!! I'm sorry I haven't done this yet, but I've only just seen the entry that she posted with it.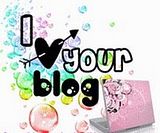 The rules are...
1. Accept the award and post it on your blog
2. Pass the award on to others! :)
I pick:
-Vex In The City - She writes exactly the type of blog I love to read, lots of make up chatter and she's an awesome lady in real life as well!
-The Next Best Thing To Going Shopping Yourself - Her swatches are epic I tell you. Epic.
-

Hele

Says... - Her reviews are lovely and in depth and she never minces her words.
-

Nefertari's

Sparkles - Her blog post convinced me on the Urban Decay Book of Shadows 2. Not that I needed much convincing! She's not been going as long as some of the others but I'm loving her developing style.
I've tried to pick people from my blog list that I haven't seen nominated and that I think you'd enjoy reading.