I was so excited when I got to try out a new (to the

UK

at least) brand of minerals. Anyone who's spent any amount of time reading my blog or watching my videos will know about my love affair with

mmu

(mineral make up). Even more exciting is that testing out this new brand includes a competition!! I'll give you my thoughts on the minerals first then I'll give you the competition details.
So,

Chri

Ma

Luxe

is available from the lovely Jude & Gary of Iona Cosmetics. They are currently the only UK stockist. I must just point out that the product photos on the site are excellent. Some of the best I've seen.
Chri

Ma

Luxe

Minerals are

paraben

free, cruelty free and most of the liner is vegan (individual exceptions are noted).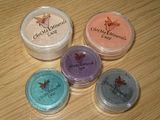 I tried the following:
-Foundation "Jasmin Rose"
-Blusher "Baby Pink"
-Eye Shadow "Charcoal"
-Eye Shadow "Paradise Aqua"
-Eye Shadow "Purple Grape"
Firstly, the foundation. It comes packed into a big jar. The weight is listed as 7g which is about the same as other mineral foundations I've got. The shade I chose is a light, cool toned shade. It's currently a good match for me but might have to be put to one side once I have a bit more of a tan further into the Summer. I try not to tan, but I can't avoid a little colour. I apply with a flat topped synthetic kabuki and this foundation gives a medium coverage. That's all I need but a heavier coverage can easily be built up with extra, light layers or simply by dampening the brush. I apply all foundation over a primer, this lasted through a work day without any issues.
The blusher is a very cute shade of pink. Straight up baby pink can look a little odd on me. This shade has some apricot warmth to it which brightens up my face. This blusher does have shimmer though. There aren't colour

descriptions

for the blushers but the product photos are excellent. It's well pigmented so a light hand is needed. The jars contain 4g of blusher.
Now the pigments!! There are a lot to chose from! There are mattes, low shimmers and high shimmers available. "Paradise Aqua" and "Purple Grape" are from the Glamour Eye Shadow set and are rich in hue and

pigmentation

. Wait until you see the swatches at the end! I adore the purple and I've worn it in a few different ways already. The aqua is a beautiful rich shade and is almost the same shade as a velvet jacket I have. The "Charcoal" is from the Shimmer Eye Shadow set. The shimmer isn't quite as "in your face" as with the Glamour shades but it has a lovely satin finish to it. All the eye shadows I've tried have fantastic staying power and do not budge when applied with a damp brush. The eye shadow jars contain 2g of powder.
Some of the pigments are not suitable for vegans as they contain Carmine. The individual shades are marked.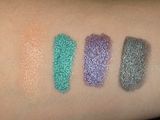 So, going l-r:
-Blusher "Baby Pink" applied dry
-Eye shadow "Paradise Aqua" applied damp
-Eye shadow "Purple Grape" applied damp
-Eye shadow "Charcoal" applied damp
I've applied as I would generally wear them so the blusher is dry, the others are damp.
Overall, I must admit to being very impressed with these minerals. If you know about my

mmu

love then you'll know I'm very hard to impress with minerals but these are a big thumbs up!
So, on to the competition!
Four of us Brit Gurus on

Youtube

are having a friendly contest. We all used the same eye shadows but chose foundation and blusher to suit our

skintone

. Then we all created a look. All you have to do is subscribe to the Iona Channel, plus the four of us, watch the videos and then vote on the Iona Channel for your favourite. The winning Guru will get a

goodie

bag, along with a random winner from those who voted for the winner. It closes on 30

th

July.
This was my look: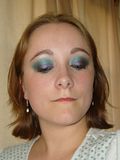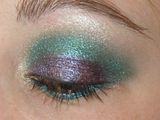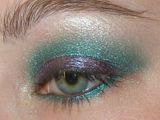 Here are the 4 videos, along with the link to the Iona Channel:
-

Sirvinya

(me!!!)
-Oxford Jasmine
-

Melovemakeup
-

Scotlass

99
-Iona

Youtube

Channel