The metallic eye shadow finish from Shu Uemura is one of my favourite types of eye shadow. They are just so smooth and richly pigmented. They used to be even better, a couple of years ago Shu Uemura discontinued all the colours in the line and rereleased them. The packaging was improved (the plastic case is thicker) but the eye shadows just didn't seem quite as rich and smooth. They're still wonderful, just not as good as they were. Think Urban Decay Deluxe finish, MAC's Veluxe Pearl and you've got the type of texture they had.
One of the absolute stand out shades in the old line of colours was "ME Silver 945". It's a metallic silvery taupe with plummy undertones that gets huge raves pretty much everywhere it's mentioned. When this was discontinued, Shu Uemura released a replacement shade which is "ME Brown 850". Yes, I own both! A very common question is whether the two are the same or not.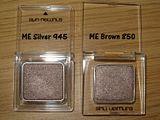 While they look pretty much identical in the pan, they are not identical shades.
But the difference to a non-addict is not enough to warrant owning both shades. The ME Silver is far richer and more of a complex colour that the ME Brown. The ME Brown has more silver tones and looks flatter then the ME Silver. It still has the metallic finish but lacks the "WOW" factor that I consider the ME Silver to have.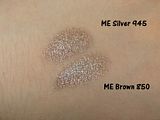 Swatched on the back of my hand, I can see the subtle colour differences. While both are very much silvery taupes with plummy undertones, the ME Silver has some gold warmth, while the ME Brown is definitely much more silver. The colour to ME Brown is close, but there's something lacking to the richness and complexity of the colour.
The texture to ME Brown is still very soft and it's still very pigmented, but the older formula is just so much smoother. Both have very good pigmentation.
So, there are differences. But while the colours are not identical, I don't think you really have to have both. I don't think anyone would notice that you had two shades on your lid if you wore them both together. If you somehow get the oppertunity to own the ME Silver over the ME Brown then go for it, but the ME Brown is a pretty close match.